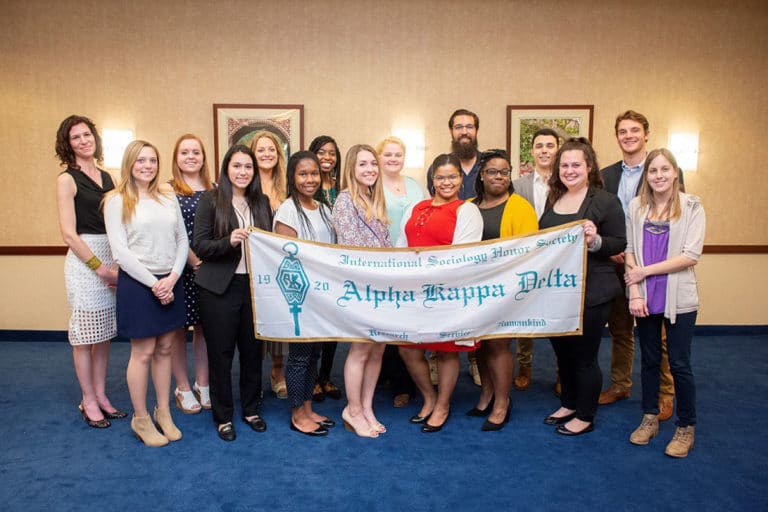 Alpha Kappa Delta Chapters
During the nine decades of its history, Alpha Kappa Delta has chartered 693 chapters at Colleges and Universities in all 50 states, the District of Columbia, Canada, China, Finland, Philippines, Taiwan, and Singapore.
To see a list of Alpha Kappa Delta's chapters, click here.

Welcome to the new 2019-2020 chapters!
California Polytechnic State University, San Luis Obispo (Alpha Omega of California)
Dixie State University (Zeta of Utah)
Florida Gulf Coast University (Upsilon of Florida)
Hobart and William Smith Colleges (Beta Iota of New York)
Seattle Pacific University (Iota of Washington)
Alpha Kappa Delta Regions
Alpha Kappa Delta is made up of ten regions. They are as follows:
Region I: Connecticut, Maine, Massachusetts, New Hampshire, Rhode Island, Vermont
Region II: New Jersey, New York, Puerto Rico, Virgin Islands
Region III: Delaware, District of Columbia, Maryland, Pennsylvania, Virginia, West Virginia
Region IV: Alabama, Florida, Georgia, Kentucky, Mississippi, North Carolina, South Carolina, Tennessee
Region V: Illinois, Indiana, Michigan, Minnesota, Ohio, Wisconsin
Region VI: Arkansas, Louisiana, New Mexico, Oklahoma, Texas
Region VII: Iowa, Kansas, Missouri, Nebraska
Region VIII: Canada, Colorado, Montana, North Dakota, South Dakota, Utah, Wyoming
Region IX: Arizona, California, Hawaii, Nevada
Region X: Alaska, Idaho, Oregon, Washington