Distinguished Lecturers
Each year, Alpha Kappa Delta holds a Distinguished Lecture session at the annual meeting of the American Sociological Association.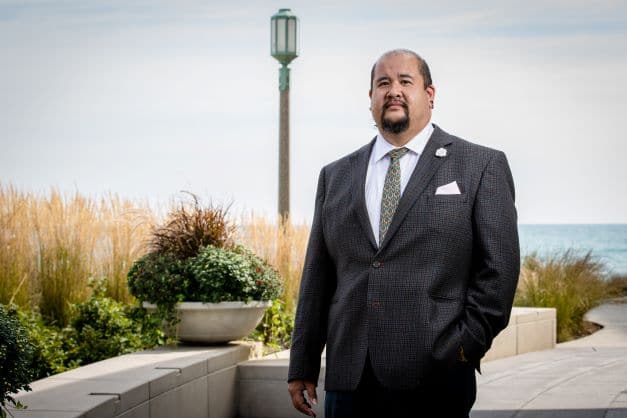 Dr. David Embrick
White Sanctuaries: Considering HWCUs and their Role in Maintaining the Status Quo 
Congratulations and thank you to our 2022 Distinguished Lecturer, Dr. David Emrick. AKD was honored to host a lecture on August 6th at the 2022 American Sociological Association conference with guest speaker, Dr. Embrick.
In previous work, Embrick and colleagues defined white sanctuaries as racialized institutions and the racial mechanisms within them that provide an (mostly) uninterrupted haven that not only promotes white supremacy, but provides a relatively "safe" space in which Whites are able to reify their racialized understanding of their world. They argued that museums such as the Art Institute of Chicago and the Boston Fine Arts Museum represented white sanctuaries. In this talk Embrick argues that many historically white colleges and universities ought to also be considered white sanctuaries, as those institutions are often less interested in decolonizing who they are and how they run things (e.g., curriculum, hiring), and more interested in maintaining the status quo–often using diversity ideology as a way to promote change without change.
Alpha Kappa Delta Distinguished Lecturers throughout the years:
2020 & 2021 – No Distinguished Lecture due to COVID-19 pandemic
2019 – Dr. Eduardo Bonilla-Silva, Duke University
"Feeling Race, Feeling Trump: Racialized Emotions in Trump's America"
2018 – Dr. Kathleen Gerson, New York University
"Different Ways of Not Having It All: Fashioning Strategies of Gender, Work, and Care in an Age of Insecurity"
2017 – Dr. Barbara Risman, University of Illinois at Chicago
"Where Will the Millennials Take Us? Transforming the Gender Structure"
2016 – Dr. Annette Lareau, University of Pennsylvania
"Unequal Childhoods, Unequal Adulthoods: Small Moments and Large Consequences"
2015 – Dr. Brian Powell, Indiana University
"Changing Counts, Counting Change: Toward a More Inclusive Definition of Family"
2014 – Dr. Cecilia Ridgeway, Stanford University
"How Does Gender Inequality Persist in the Modern World?"
2013 – Dr. Teresa Sullivan, University of Virginia
"Greedy Institutions"
2012 – Dr. David Takeuchi, University of Washington
"Bringing Boundaries to Reach Real Utopias"
2011 – Dr. Frances Fox Piven, CUNY Graduate Center
"The Resurgence of Corporate Power in the United States and the Implications for Democracy as We Know It"
2010 – Dr. Michael Messner, University of South California
"Stopping Gender Violence: Two Generations of Male Activists"
2009 – Dr. Cecilia Menjivar, Arizona State University
"Immigration, Citizenship, and Exclusion: Latin-American Immigrants and the Contemporary Regime"