Distinguished Lecturers
Each year, Alpha Kappa Delta holds a Distinguished Lecture session at the annual meeting of the American Sociological Association.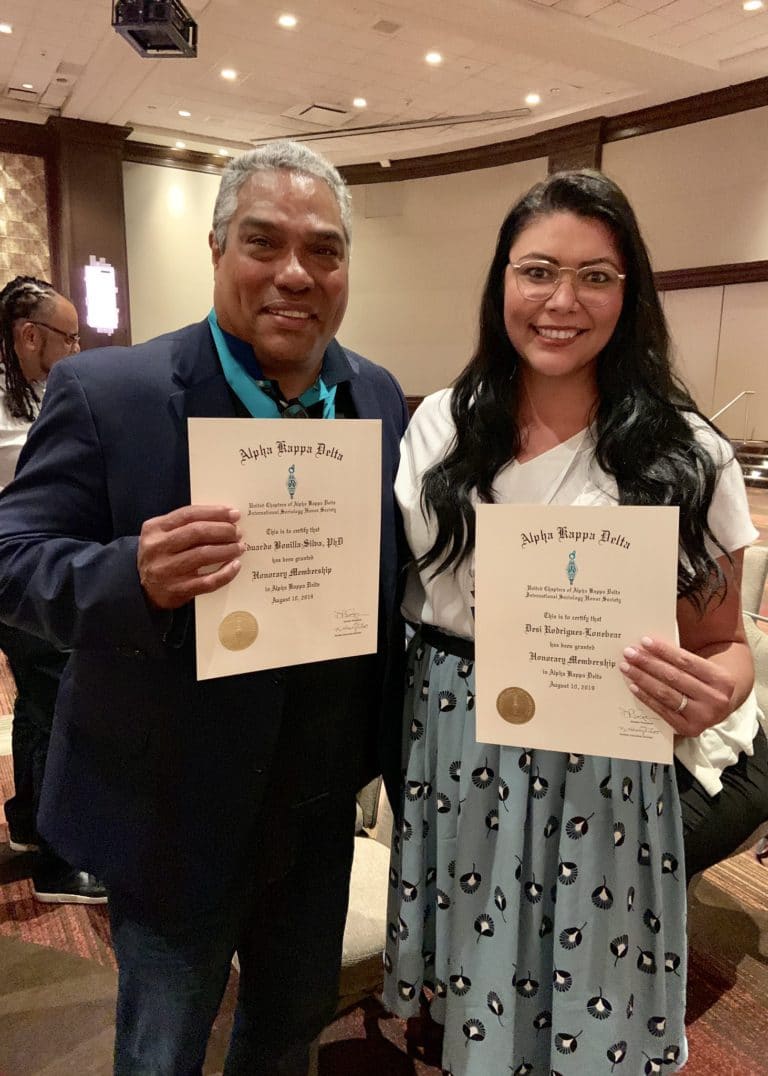 Dr. Eduardo Bonilla-Silva
Feeling Race, Feeling Trump: Racialized Emotions in Trump's America
Congratulations and thank you to our 2019 Distinguished Lecturer, Dr. Eduardo Bonilla-Silva. AKD was honored to host a lecture on August 10th at the 2019 American Sociological Association conference with guest speaker, Dr. Bonilla-Silva.
Racial domination does not depend exclusively on racial practices such as residential and school segregation, labor market or street discrimination, and police brutality to be maintained. "Racialized emotions" (the specific emotions connected to racial orders) are central in the construction of the modern subject and are thus crucial to the perpetuation of racism. In this talk, Professor Bonilla-Silva will use the example of how President Trump uses these emotions to advance his political interests. However, the Trump case is presented to illustrate the general theory he advanced in 2018's ASA meeting and in no way means that only certain privileged actors feel or deploy racialized emotions. In fact, he will forcefully argue that we all "feel race," hence, the ultimate goal of the lecture is thinking about what we need to do collectively to produce an effective affective politics that will move us towards a general feeling of equality.
Alpha Kappa Delta Distinguished Lecturers throughout the years:
2018 – Dr. Kathleen Gerson, New York University
"Different Ways of Not Having It All: Fashioning Strategies of Gender, Work, and Care in an Age of Insecurity"
2017 – Dr. Barbara Risman, University of Illinois at Chicago
"Where Will the Millennials Take Us? Transforming the Gender Structure"
2016 – Dr. Annette Lareau, University of Pennsylvania
"Unequal Childhoods, Unequal Adulthoods: Small Moments and Large Consequences"
2015 – Dr. Brian Powell, Indiana University
"Changing Counts, Counting Change: Toward a More Inclusive Definition of Family"
2014 – Dr. Cecilia Ridgeway, Stanford University
"How Does Gender Inequality Persist in the Modern World?"
2013 – Dr. Teresa Sullivan, University of Virginia
"Greedy Institutions"
2012 – Dr. David Takeuchi, University of Washington
"Bringing Boundaries to Reach Real Utopias"
2011 – Dr. Frances Fox Piven, CUNY Graduate Center
"The Resurgence of Corporate Power in the United States and the Implications for Democracy as We Know It"
2010 – Dr. Michael Messner, University of South California
"Stopping Gender Violence: Two Generations of Male Activists"
2009 – Dr. Cecilia Menjivar, Arizona State University
"Immigration, Citizenship, and Exclusion: Latin-American Immigrants and the Contemporary Regime"