Minority Fellowship Program
Through its Minority Fellowship Program (MFP), the American Sociological Association (ASA) supports the development and training of sociologists of color in any sub-area or specialty in the discipline. MFP seeks to attract talented doctoral students to ensure a diverse and highly trained workforce is available to assume leadership roles in research that is relevant to today's global society. Alpha Kappa Delta proudly contributes annually to fully sponsor one Minority Fellow recipient. Learn more and/or apply here!
2022-2023 AKD Sponsored MFP
Edwin Grimsley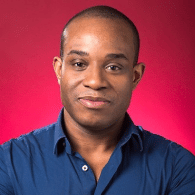 Edwin Grimsley is a PhD candidate at The Graduate Center, CUNY. Broadly, Grimsley studies the intersection of race and racism, economic inequality, urban sociology, and criminology. His dissertation, Colorblind Racism in Marijuana Possession Laws: A Sociological Approach from Development to Implementation, applies mixed methods to examine the development, implementation, and impact of marijuana possession laws in the United States, and in New York state specifically. In this work, Grimsley utilizes archival research to decipher how public and private legal exceptions in the development of marijuana possession laws created and reproduced existing inequalities. Using quantitative methods, he takes particular interest in understanding the effects of race and class-based criminalized policing for public marijuana possession offenses, specifically in employment domains. Grimsley's research has been supported by a NIH predoctoral award funded by the National Institute of Drug Abuse (NIDA) via the Behavioral Sciences Training program at New York University. Prior to his training as a sociologist, he worked as a case analyst for The Innocence Project, where he investigated cases of prisoners convicted of serious crimes they did not commit, ultimately helping free seven innocent people from prison. During his graduate studies, Grimsley has worked as a qualitative research assistant for the Yale Law School Justice Collaboratory where he interviewed criminal justice actors and community residents across New York City, and as a quantitative research assistant for the Data Collaborative of Justice where he wrote public facing reports on misdemeanor arrests.
Past AKD Sponsored Minority Program Recipients 

2021-2022  Alejandro Zermeno, University of California-Merced
2020-2021  Uriel Serrano, University of California-Santa Cruz
2019-2020  Desi Rodriguez-Lonebear, University of Arizona & University of Waikato
2018-2019  Kelly Marie Ward, University of California-Irvine
2017-2018  Salvador Rangel, University of California – Santa Barbara
2016-2017  Yader Lanuza, University of California Irvine
2015-2016  Nnenia Campbell, University of Colorado at Boulder
2014-2015  Jackelyn Hwang, Harvard University
2013-2014  Matthew Town, Portland State University
2012-2013  Brandi Gilbert, University of Colorado at Boulder
2011-2012  Sean Aravasirikul, University of California – San Fransisco
2010-2011  Eugenia Conde, Texas A&M University
2009-2010  Mosi Ifatunji, University at Illinois – Chicago
2008-2009  Louis Esparza, SUNY Stony Brook
2007-2008  Demetrius Semien, University of North Carolina at Chapel Hill
2006-2007  Amanda Armenta, University of California – Los Angeles
2005-2006  David Embrick, Texas A&M University