Minority Fellowship Program
Through its Minority Fellowship Program (MFP), the American Sociological Association (ASA) supports the development and training of sociologists of color in any sub-area or specialty in the discipline. MFP seeks to attract talented doctoral students to ensure a diverse and highly trained workforce is available to assume leadership roles in research that is relevant to today's global society. Alpha Kappa Delta proudly contributes annually to fully sponsor one Minority Fellow recipient. Learn more and/or apply here!
2023-2024 AKD Sponsored MFP
Demetrius Miles Murphy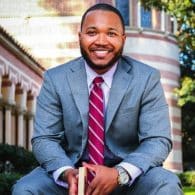 Demetrius Miles Murphy is a PhD candidate in sociology at the University of Southern California, Los Angeles. He earned his BBA in Management Consulting and Africana Studies at the University of Notre Dame and his MA in Latin American Studies at Vanderbilt University where he learned Portuguese to be able to conduct in-depth interviews and observations for his MA thesis Doing Business in the Black: Afro-Brazilian Entrepreneurship as Resistance to Anti-Blackness in São Paulo Brazil. Murphy's interests include race and ethnicity, urban and economic sociology, culture, and qualitative methodologies. His dissertation Remaking Black LA: Black Flourishing in the Anti-Black Metropolis examines how Black people across the class spectrum create and experience flourishing in Los Angeles County. His dissertation unites three broad sociological topics: Black placemaking, flourishing, and the Black class structure. In doing so, he adds "positive sociology of Blackness" to the literature, moving the central focus of research on Black life based around crime, death, and poverty to that of living well. Murphy received the Devon T. Wade Student Paper Award from the Association of Black Sociologists, the James E. Blackwell Graduate Student Paper Award from the ASA Section on Racial and Ethnic Minorities, and an honorable mention for the Cristina Maria Riegos Distinguished Student Paper Award from the ASA Latina/o Sociology Section for his article "Aquilombamento, Entrepreneurial Black Placemaking in an Anti-Black City." His second manuscript "Quem pode ser a dona?: Afro-Brazilian Women Entrepreneurs and Gendered Racism" received the SSSP Kauffman Foundation Best Student Paper Award in Social Entrepreneurship and Innovation. In his free time, Murphy enjoys traveling, reading, and watching television.
Past AKD Sponsored Minority Program Recipients 

2022-2023  Edwin Grimsley, The Graduate Center, CUNY
2021-2022  Alejandro Zermeno, University of California-Merced
2020-2021  Uriel Serrano, University of California-Santa Cruz
2019-2020  Desi Rodriguez-Lonebear, University of Arizona & University of Waikato
2018-2019  Kelly Marie Ward, University of California-Irvine
2017-2018  Salvador Rangel, University of California – Santa Barbara
2016-2017  Yader Lanuza, University of California Irvine
2015-2016  Nnenia Campbell, University of Colorado at Boulder
2014-2015  Jackelyn Hwang, Harvard University
2013-2014  Matthew Town, Portland State University
2012-2013  Brandi Gilbert, University of Colorado at Boulder
2011-2012  Sean Aravasirikul, University of California – San Fransisco
2010-2011  Eugenia Conde, Texas A&M University
2009-2010  Mosi Ifatunji, University at Illinois – Chicago
2008-2009  Louis Esparza, SUNY Stony Brook
2007-2008  Demetrius Semien, University of North Carolina at Chapel Hill
2006-2007  Amanda Armenta, University of California – Los Angeles
2005-2006  David Embrick, Texas A&M University