Minority Fellowship Program
Through its Minority Fellowship Program (MFP), the American Sociological Association (ASA) supports the development and training of sociologists of color in any sub-area or specialty in the discipline. MFP seeks to attract talented doctoral students to ensure a diverse and highly trained workforce is available to assume leadership roles in research that is relevant to today's global society. Alpha Kappa Delta proudly contributes annually to fully sponsor one Minority Fellow recipient.
2020-2021 AKD Sponsored MFP
Uriel Serrano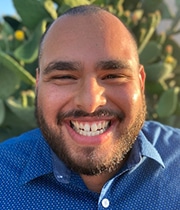 Uriel Serrano is a first-generation student from South Central Los Angeles and a PhD candidate in Sociology and Critical Race and Ethnic Studies at the University of California-Santa Cruz (UCSC). He earned his BA and MA in sociology from California State University-Los Angeles. Serrano's areas of specialization are gender and masculinity, children and youth, social movements and youth activism, sociology of education, and Du Boisian sociology. His dissertation, "Coming of Age in South Central: Gender Ideologies, Youth Activism, and the Carceral State," examines how gender ideologies, gender socialization, activism, youth groups, and the history of South Central intersect and mediate Black and Latino young men's contemporary experiences. Drawing on ethnographic methodologies, surveys, and document analysis, this project responds to theories of masculinity that do not adequately reflect the material and social realities of Black and Latino boys and young men. Guided by community engaged methods, Uriel positions Black and Latino young men as situated knowers and knowledge producers to link and advance critical theories of masculinity, intersectionality, and social movements. His work is published in Race, Ethnicity and Education and Association of Mexican American Educators Journal, and forthcoming in Sociological Perspectives. Serrano has also contributed to several community-engaged research projects, published reports through the University of Southern California's Program for Environmental and Regional Equity, and co-led program evaluations for UCSC's Student Success Equity Research Center and The California Endowment. When not working, he is cuddling his pitbull mix, drinking coffee, or spending time with loved ones.
Past AKD Sponsored Minority Program Recipients 

2019-2020  Desi Rodriguez-Lonebear
2018-2019  Kelly Marie Ward, University of California-Irvine
2017-2018  Salvador Rangel, University of California – Santa Barbara
2016-2017  Yader Lanuza, University of California Irvine
2015-2016  Nnenia Campbell, University of Colorado at Boulder
2014-2015  Jackelyn Hwang, Harvard University
2013-2014  Matthew Town, Portland State University
2012-2013  Brandi Gilbert, University of Colorado at Boulder
2011-2012  Sean Aravasirikul, University of California – San Fransisco
2010-2011  Eugenia Conde, Texas A&M University
2009-2010  Mosi Ifatunji, University at Illinois – Chicago
2008-2009  Louis Esparza, SUNY Stony Brook
2007-2008  Demetrius Semien, University of North Carolina at Chapel Hill
2006-2007  Amanda Armenta, University of California – Los Angeles
2005-2006  David Embrick, Texas A&M University